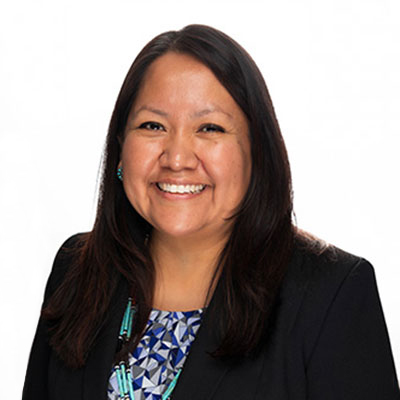 EDUCATION
University of Colorado, J.D. (2003)
University of Denver, B.A., American History and Political Science (2000)
ADMISSIONS
New Mexico
Colorado
Navajo Nation Tribal Court
Ute Indian Tribal Court
Cheyenne and Arapaho Tribal Court
Yankton Sioux Tribal Court
Crow Nation Tribal Court
Pueblo of Acoma Tribal Court
Fort Berthold District Court
U.S. District Court for the District of New Mexico
PUBLICATIONS
Committee Chair, Citizenship Delayed: Civil Rights and Voting Rights Implications of the Backlog in Citizenship and Naturalization Applications, Report of the Colorado Advisory Committee to the U.S. Commission on Civil Rights (Sept. 2019)
Committee Chair, The Colorado Constitution's No Aid to Sectarian Institutions Clause and Its Impact on Civil Rights, Report of the Colorado Advisory Committee to the U.S. Commission on Civil Rights (Sept. 2018)
A Practical Guide to Tribal Issues Associated with Planning and Permitting a Pipeline, Rocky Mountain Mineral Law Foundation – Midstream Oil & Gas from the Upstream Perspective (April 24-25, 2018)
Regulation of Employment: Tribal Employment Rights Ordinances and the NLRB, Rocky Mountain Mineral Law Foundation – Special Institute on Indian Law and Natural Resources: The Basics and Beyond (Sept. 26-27, 2017)
Originally from Coyote Canyon (Brimhall), New Mexico, Alvina is an enrolled member of the Navajo Nation, born from the Kin ł ichii'nii – Red House People clan and born for the Bit'ahnii – Folded Arms People clan. Her maternal grandfather clan is Haltsooi – Meadow People and her paternal grandfather clan is Tsi'naajinii – Black Streak Wood People.
Alvina is a founding partner of Patterson Earnhart Real Bird & Wilson LLP with more than 15 years legal experience specializing in Federal Indian law.  Alvina works primarily with tribal governments and tribally-owned business enterprises in administrative matters, tribal reorganization, tribal code revisions, human resources, social services, probate, enrollment, land and water rights, housing, taxation (federal, tribal and state), economic development, natural resource development, agriculture (farming and grazing), oil and gas development, litigation (federal, state and tribal), and federal environmental law compliance.
Alvina serves as general counsel and special counsel to various tribes and tribally-owned business enterprises.  In this capacity, Alvina advises tribal leaders, department directors and staff as well as tribal committees, boards and commissions on a daily basis. Alvina oversees a team of associates within the firm and manages assignments and cases on behalf of clients.
Prior to establishing Patterson Earnhart Real Bird & Wilson LLP, Alvina was a partner at a national law firm for 12 years, where she represented clients primarily on Federal Indian law matters. Before that, she worked at a Denver-based law firm on commercial development, property and environmental issues.