Right before Christmas, Native Law Group attorneys and staff helped spread joy through their effort to deliver hundreds of toys for the Cheyenne River Youth Project (CRYP) Wo Otúh'an Wi Toy Drive on the Cheyenne River Indian Reservation.
Native Law Group helped fulfill the handwritten wish lists from Cheyenne River youth that are posted on the CRYP website. Their attorneys and staff donated toys, clothes and gifts, and also delivered donations from Boulder and Louisville, Colorado residents and the parents and students at a local high school.
Loading up Santa's sleigh, the Native Law Group team drove a twenty-six-foot truck full of toys from Louisville, Colorado to Eagle Butte, South Dakota. Snowy roads welcomed the truck into Eagle Butte as Native Law Group and CRYP staff celebrated the delivery.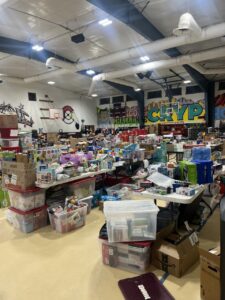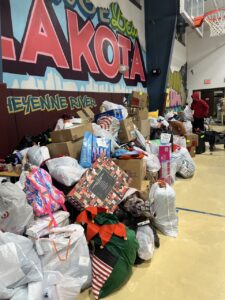 "The Toy Drive was a huge success, and a Native Law Group was humbled to help deliver some of the toys, clothing and gifts collected by CRYP." – Jeremy Patterson, Partner, Native Law Group